Did you know? The funds raised from our summer musical are critically important to our entire year of youth ministry programming. Because of our summer musical we can….send teens on retreats & mission trips…have young adult outreach… perform service projects in our region…provide community and volunteer opportunities for hundreds of people…plus support over 290+ other activities we host throughout a typical year.
But with the social distancing requirements, capacity restrictions, and most importantly, safety concerns, that exist for the performing arts right now, it's impossible for us to bring you an in-person summer musical.
This Reality Hit Us Very Hard...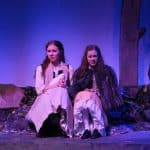 To be honest, without our summer musical in full gear, many of our usual programs — and ultimately our year-long impact — were in great jeopardy. 
(Keep reading to find out how you can make sure our future is brighter!)
However, we believe it's still vitally important for us to bring an uplifting theatrical experience to your family. That's why on July 24, we premiered our No One is Alone: Upper Room Theatre's Celebration of Broadway free live streaming event that brings your family the joy and award-winning artistry you've come to expect from us.
But because our entire of year of programming needs vital funds to survive, we are excited to be….
Introducing Our New "No One Is Alone" 2020 Campaign!
In addition to enjoying our free streaming production, perhaps you would consider donating at least a portion of what you would have spent on tickets?
For the first-time ever, when you give to this special fundraising campaign, your tax-deductible donation in support of our mission will give you special recognition, goodies, and more!
Now that we've met our initial goal of providing for our 2021 youth ministry program, we have a greater need to provide for our theater program. That includes replacing vital microphones, costume equipment, new lighting, keyboards, increased storage, and more.
Check out all our special donor levels below.
(Of course you can choose a custom amount to donate, as every bit helps us continue our important work throughout the year!)
Our Special Recognition Levels
SUPPORTER LEVEL ($50)
• Special recognition on our new website donor page for the entire season
ARTS-LOVER LEVEL ($100)
Everything at the Supporter level, plus…
• Two (2) 2021 Winter Cabaret tickets
PATRON LEVEL ($250)
Everything at the Arts-Lover level, plus…
• Two (2) 2021 West Side Story Tickets,
• Our exclusive URTM donor-only tote bag, and
• Your name listed in our 2021 program
SPONSOR LEVEL ($500)
Everything at the Patron level, plus…
• A private 60-minute "Creating the Show" interactive online Masterclass with our No One is Alone creative team – after our show, go behind-the-scenes to find out how we made the magic happen!
• A limited-edition "No One Is Alone" exclusive t-shirt
PRODUCER LEVEL ($750)
Everything at the Sponsor level, plus…
• Two (2) VIP Producer's Pass West Side Story 2021 ticket upgrades – this extremely limited ticket gives you the ultimate show experience, with a private waiting area, a cut-the-line pass, free food and drink, a signed cast poster, and a backstage meet-and-great experience with the cast!
ANGEL LEVEL ($1,000)
Everything at the Producer level, plus…
• A never-before-offered experience…four VIP invites to our first 2021 West Side Story sing-through, including a private reception with members of the creative team – you'll have a front-row seat to one of the most magical rehearsals of our summer!
• Special recognition as an angel-level sponsor of our "No One is Alone" July 2020 concert
Thank You for Making Our Youth Ministry's 2021 Future Very Bright! Please Donate Below to Help Keep Our Lights Bright For Years to Come...
$38,409
of
$40,000
raised
Thank You to Our Awesome Donors!
Zachary Mikkelson
$103.30